It turns out that the basic nursing school curriculum still does not teach anything about the business of nursing.
What is interesting is that everything about nursing is connected to business starting with the scrubs we wear, the equipment we use, the modes of communincation (electronic medical record keeping for example) we use in doing our work down to discharge planning and discharge teaching.
Some of us have been in practice for over ten years and still have not been exposed to the business aspects of our industry and even though we work in business making great money for the organizations we serve, we still do not know much about the business world until now. We could go back to school and take a few business classes but who really has time for that and how do you know that after the business class you will have enough knowledge and confidence to start your own business? Hint, hint......you will NOT. You will have may be, a piece of paper called a transcript and possibly a student loan to pay back.... don't forget the stress of trying to go back to traditional school and keeping a job and having a life.
What if you could just find a way to learn just what is needed to get started? What if there was a way to get the reader's digest version of starting, operating and growing a caregiving business? What if you could find someone to guide you step by step, week by week taking ideas from your head and making them possible in your life? What if you could start a business without taking out a loan? What if you could just earn an extra 2-5 thousand dollars a month working part time in your own business?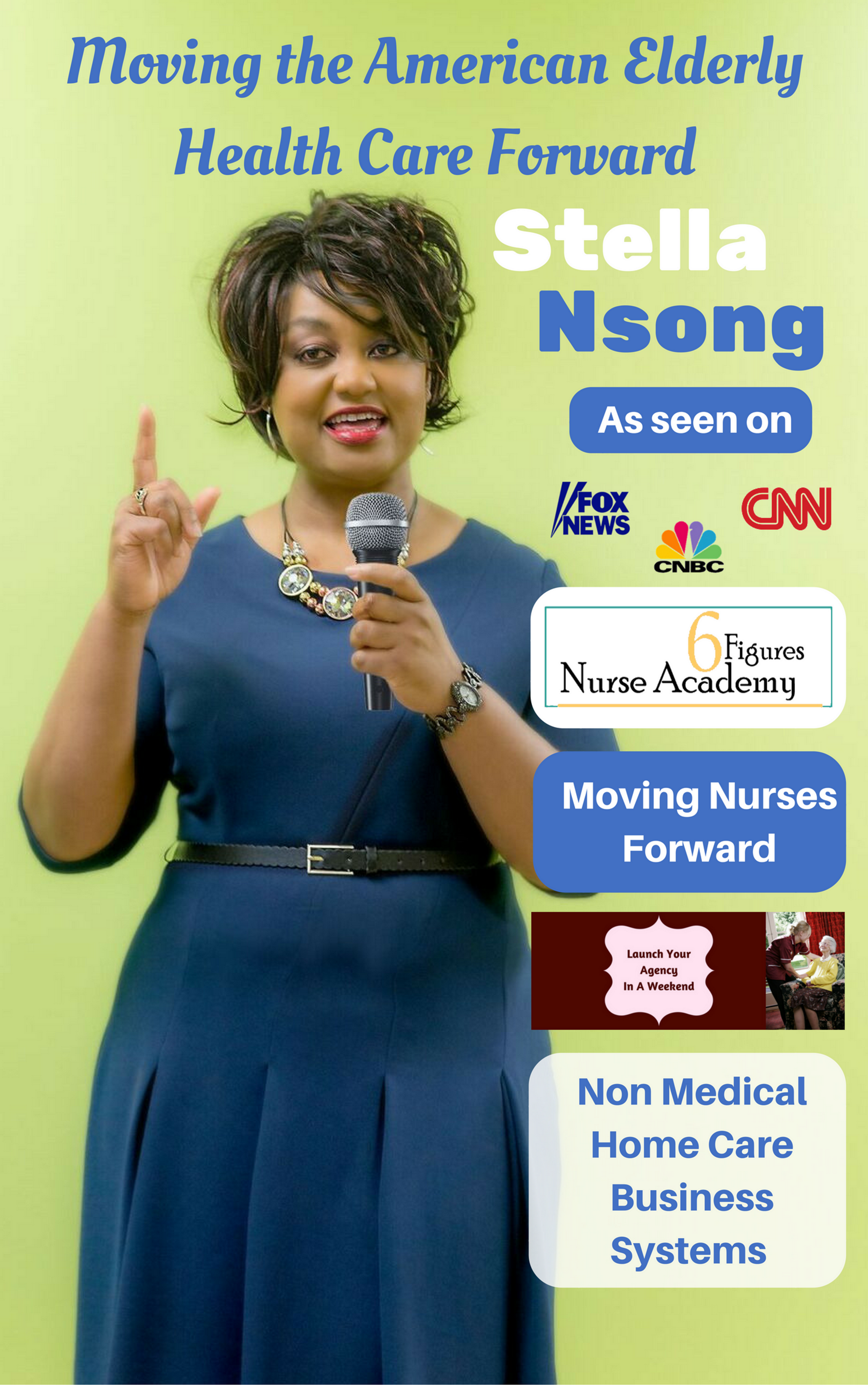 How would your life be if you had a business that you really loved and that you could do working the same hours you work now or less and making $150-$200k a year take home? What if you could build a business like that twelve to twenty four months from now and without going into debt?
How awesome would if be if any or all of these were possible for you right now, right here?
Guess what? It is possible and you can begin right now, right here and you don't need a loan to start and you can do it because i am here to support you to make it happen. I have everything you need and every document needed for you to get your business up and running in no time.
My name is Stella Nsong. I am a nurse too and i only teach and mentor nurses. I know what it means to work long stressful hours. I understand being over worked, under paid and under appreciated. I am self taught for the most part meaning that i have made every mistake that you can think about and so after almost 30 years in the field of nursing and entrepreneuship, i now have the most beautifuly polished, cost effective, results oriented home care business system availble in the country. My systems save you time, money, headache and heart ache and they bring you results.
I have one good GUARANTEE: I will give you over whelmingly good content and information and systems that if you put to use as recommended, it will change your life forever in a positive and life enhancing way.
I am popularly known as the Elder Care Cliff Expert. I teach and mentor nurses, a write an elder care advice column and i design elder care work place programs for small businesses. My goal is to help American prepare for the elder care cliff. Visit www.StellaNsong.com for more information.
Welcome to your level of success and i look forward to working with you in starting and growing your health care business.
WHAT TO EXPECT: This program consist of 5 courses: The Psychology of Success, Nurse Entrepreneurship 100 & 101, How To Run A Small Business 101, Launch Your Agency In A Weekend and weekly group coaching.
REQUIRED TIME COMMITMENT: 2 hours of weekly coaching every week for 15 months, yes 15 months and 20 minutes of personal mental work 6 days a week.
COST: $325/month for 15 months.
WHEN CAN YOu START BUILDING YOUR BUSINESS? Right now. CLICK ENROLL at the top of this page and register and i shall see you in the program. You can start building your business today. Have your pen, paper and your mind ready. !!!!!!!