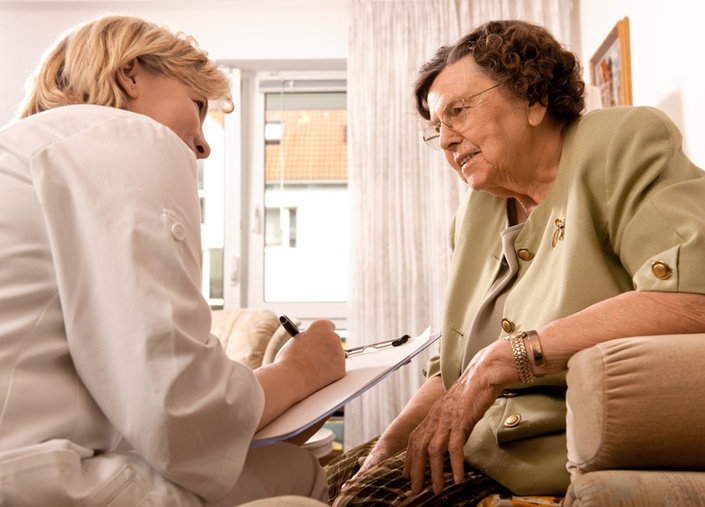 Transitional Care Management & Home Caregiving Business In A Box With Mentorship & Coaching
A self paced, self study online course that shows you how to build a successful caregiving business.
Watch Promo
Every twenty four hours, every nurse in America gets a brand new opportunity to become a successful home and community based provider and or a caregiving entrepreneur.
How you may ask?
Because every twenty four hours, ten thousand babyboomers become senior citizens which means that the demand for caregiving services rises everyday. The eldercare industry can not keep up with the demand for caregiving services. That means that every nurse can seize the opportunity right in his/her community. You do not have to travel far, there are elder care clients every where.
What services can you offer to the elderly and how can you make money doing that?
There are over ten services that a nurse can provide to an elderly client and get handsomely paid for doing so.
Most nurses have been providing these services for FREE to relatives, freinds, neigbors and fellow parishioners.
This course will show you how to convert the sevices that you do everyday for free into an income stream but first lets understand what these services are and how they become income streams.
HOME CARE
First, lets discuss home care. What is home care?
Home care is the non medical and supportive living services needed by older adults and or those with a disability.
The services are provided by direct care workers, home health aides, companions and sitters and are designed to assist with activities of daily living and to improve and promote independent living and dignity.
Payment for home care services is done through the use of private funds, long term care insurance, veterans benefits and Medicaid.
It is different from HOME HEALTH CARE which is skilled care provided by licensed nurses and therapist and paid for by Medicare, Miedicaid and private health insurance.
TRANSITIONAL CARE MANAGEMENT & TRANSITIONAL CARE CONSULTATION.
What is Transitional Care Management & Transitional Care Consultation?

Transitional care management (TCM) is a service provided by physicians, medical practitioners, allied health professionals and nurses to a patient with medical and/or psychosocial problems requiring moderate or high-complexity medical decision making.
The services are designed to help a patient and his/her family caregiver to navigate the health care continuum and to transition from one level of care to another.
What Are Some Of The Services That A Transitional Care Consultant Could Provide To Clients In Home & Community Based Elder Care?
Communication (direct contact, telephone, electronic) with the patient and/or a family caregiver regarding the level of care.
Communication with home health agencies, hospice and other community services utilized by the patient
Patient and/or family/caretaker education to support self-management, independent living, and activities of daily living
Assessment and support for treatment regimen adherence and medication management
Identification of available community and health resources
Facilitating access to care and services needed by the patient and/or family caregivers
Care planning and care advocacy.
Obtaining and reviewing the discharge information (e.g., discharge summary, as available, or continuity of care documents) for purposes of designing appropriate care
Reviewing need for, or follow up on, pending diagnostic tests and treatments
Interaction with other qualified health care professionals who will assume or reassume care of the patient's system-specific problems
Education of patient, family, guardian, and/or caregiver
Establishment or re-establishment of referrals and arrangement of needed community resources
Assistance in scheduling any required follow up with community providers and services
Performing level of care assessments for appropriate placements and care coordination.
---
Now the question is; how do you get started? How much money do you need to get your business started? How do you get clients? How do you run a business? What if you don't have any experience running a business? Can you really run a business?
The answer is yes, you can run a home & community based elder care business and this course shows you how.
This course is best for those who need to take slow baby steps into entrepreneurship, those who have 3-6 months to wait for their agency license but want to start building their businesses and working for themselves, those who just want to start very small and those who have a limited start up capital.
---
It turns out that the basic nursing school curriculum still does not teach anything about business even though nursing and business are very similar.

What is interesting is that everything about nursing is connected to business starting with the scrubs we wear, the equipment we use, the modes of communication (electronic medical record keeping for example) we use in doing our work down to discharge planning and discharge teaching.
Some of us have been in practice for over ten years and still have not been exposed to the business aspects of our industry and even though we work in business making great money for the organizations we serve, we still do not know much about the business world until now. We could go back to school and take a few business classes but who really has time for that and how do you know that after the business class you will have enough knowledge and confidence to start your own business? Hint, hint......you will NOT.
You will have may be, a piece of paper called a transcript and possibly a student loan to pay back.... don't forget the stress of trying to go back to traditional school and keeping a job and having a life.
What if you could just find a way to learn just what is needed to get started? What if there was a way to get the reader's digest version of starting, operating and growing a caregiving business? What if you could find someone to guide you step by step, week by week taking ideas from your head and making them possible in your life? What if you could start a business without taking out a loan? What if you could just earn an extra 3-5 thousand dollars a month working part time in your own business?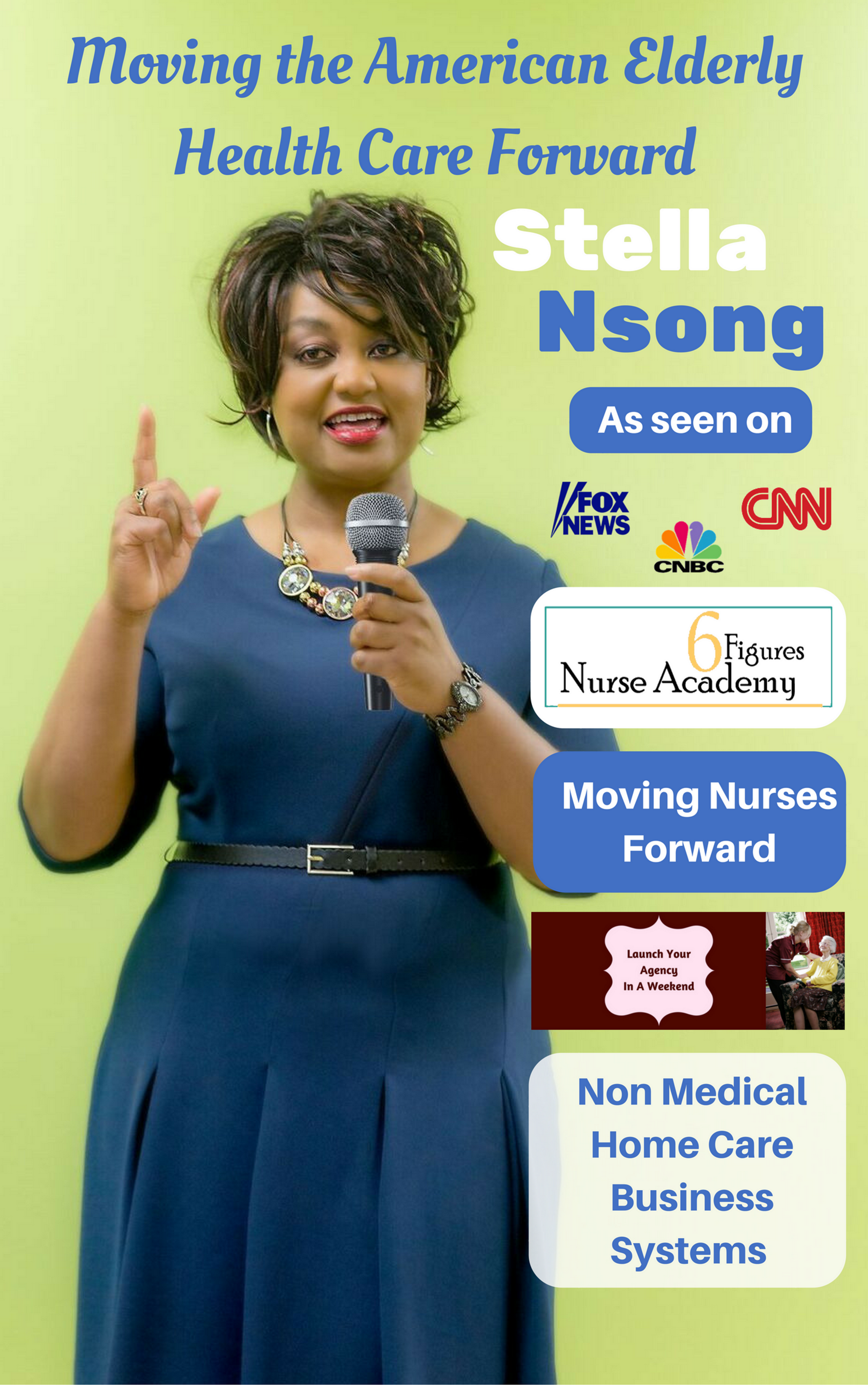 How would your life be if you had a business that you really loved and that you could do working the same hours you work now or less and making $150-$200k a year take home? What if you could build a business like that six to twelve months from now and without going into debt?
How awesome would if be if any or all of these were possible for you right now, right here?
Guess what? It is possible and you can begin right now, right here and you don't need a loan to start and you can do it because i am here to support you to make it happen. I have everything you need and every document needed for you to get your business up and running in no time.
My name is Stella Nsong. I am a nurse too and i only teach and mentor nurses. I know what it means to work long stressful hours. I understand being over worked, under paid and underappreciated. I am self taught for the most part meaning that i have made every mistake that you can think about and so after almost 30 years in the field of nursing and entrepreneurship, i now have the most beautifully polished, cost effective, results oriented home care business system available in the country. My systems save you time, money, headache and heart ache and they bring you results.
I have one good GUARANTEE: I will give you over whelmingly good content, information and systems that if you put to use as recommended, it will change your life forever in a positive and life enhancing way.
I am popularly known as the Elder Care Cliff Expert. I teach and mentor nurses, i write an elder care advice column and i design elder care work place programs for small businesses.
My goal is to help America prepare for the elder care cliff. Visit www.StellaNsong.com for more information.
Welcome to your next level of success and i look forward to working with you in starting and growing your home care business.
WHAT TO EXPECT: This course is self paced and it is a home study course that comes with weekly mentoring and small group coaching.
HERE IS WHAT IS INCLUDED:
A big chapter on how to find the time and money you need to start your business
A chapter on how to start your business today for less than $500.
Help with finding the BEST name for your business, getting a federal tax ID number, getting your business registered with your state, getting a business license if you need one and getting your business all set up and ready for clients and profits.
Three big chapters on how to set up your independent nurse practice while your transition from your job into your business
Several chapters on the Psychology of Success
Several chapters on small business management 101
Several chapters on how to find clients for the business that you have selected to do in home and community based elder care from care management to transitional care management to home care and supplemental staffing for community based facilities.
Guidance on the agency license application process if you have a home care business and need a license to operate
Ten policies and procedures you will need for your independent nurse practice and transitional care management service.
Weekly small group mentoring and coaching to support you are your grow your business.
A private face book group for 24/7 support when you have pressing questions that can not wait for the weekly coaching session.
REQUIRED TIME COMMITMENT: 90 mins of weekly small group coaching for 12 months, yes 12 months and 60 minutes of personal mental work 6 days a week and of course several hours building your business to that level where you have 3 to 5 clients with a net healthy six figures income working part time.
COST: $249/month for 12 months.

WHEN CAN YOU START BUILDING YOUR BUSINESS? Right now. CLICK ENROLL at the top of this page and register and i shall see you in the program. You can start building your business today. Have your pen, paper and your mind ready. !!!!!!! Your life is about to change.

Your Instructor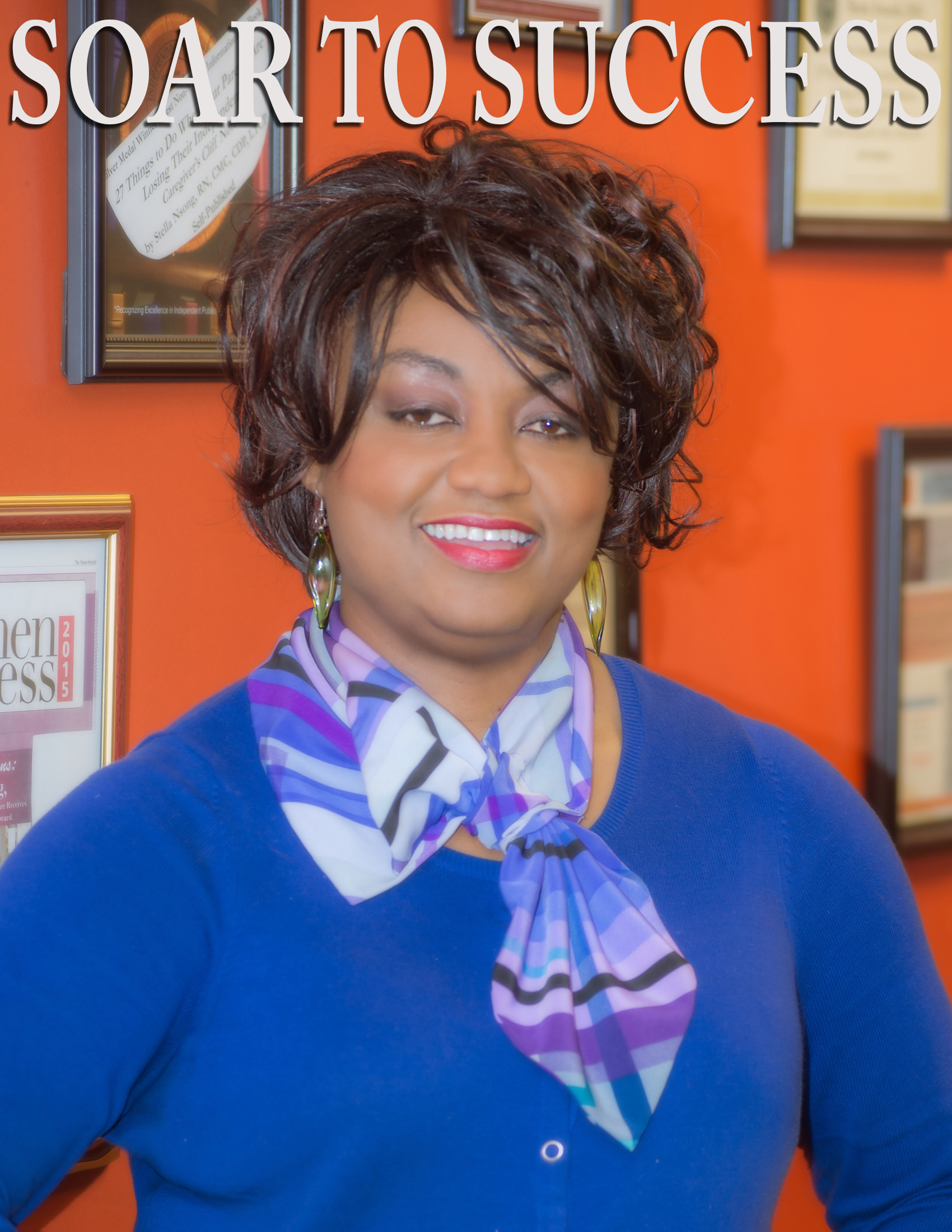 Course Curriculum
INTRODUCTION TO THE INDEPENDENT HOME & COMMUINITY BASED BUSINESS OPPORTUNITIES
Available in days
days after you enroll
SUCCESS TOOL BOX
Available in days
days after you enroll
CAREGIVING UNIVERSITY ON WHEELS; Many Things To Know Before You Launch Your Home Care Business/Prevent Training For LAUNCH YOUR AGENCY IN A WEEKEND
Available in days
days after you enroll
Frequently Asked Questions
When does the course start and finish?
The course starts now.! It is a completely self-paced online course - you decide when you start and when you finish. If you are starting your business and using this course to take slow baby steps, you can switch to a different course when you are ready. Some nurses use this course to get started while waiting for their agency license. Some agency licenses take 3-6 months to get but a nurse can start to make money independently while waiting for the agency license.
How long do I have access to the course?
How does an entire year after you complete the 12 months sound?
What if I am unhappy with the course?
We would never want you to be unhappy! If you are unsatisfied with your purchase, contact us in the first 30 days and we will give you a full refund no questions asked.