Launch Your Agency In A Weekend
Set up your business, select forms policies & procedures, learn the strategies to get clients. Start this weekend, get your 1st client on Monday!
Watch Promo
Enroll in Course
BEFORE NOW, MOST OF WHAT YOU HAVE HEARD ABOUT OWNING & OPERATING A NON MEDICAL HOME CARE AGENCY IS A LIE.
Getting clients is not difficuly so if that is one of the things you have heard, cross that out as a big fat lie.
It is also not true that you need to get into debt and or borrow money to start. As a matter of fact, all my students start and grow debt free caregiving businesses. I will show you how to get the clients to pay you ahead of time so you do not need a huge working capital.
It is also not true that you have to have a license for everything you do. You can make a boat load of money without a license and i will show you exactly how to do that. In many states in the USA, you do not need a license to own and operate a non medical home care agency.
WHO IS THIS COURSE DESIGNED FOR?
This course is designed for;
* Nurses who want to replace their incomes, add an additonal income stream, work less, have more money each month, lower their stress, increase quality of life, enjoy flexibility and have control of their own time and work life balance.
* Nurses who want to quit their jobs and be able to replace their incomes fast.
* Nurses who want to learn to enjoy their careers through owning a caregiving business where they can use their nursing skills, care management skills, life skills, leadership experience and creativity and be nicely compensated and compensated better than the traditional nurse.
* Nurses who have started a caregiving business and want to learn how to get high paying private pay clients.
In this course, you will get to burst the myths surrounding the launching, owning and operating a successful non-medical in home care business.
When this program was first created, the initial idea was to get agencies formed, named, registered and set up for operations and ready for a client the very Monday following the event because many nurses have the ideas but did not have an affordable, quick and simple way to get that done.
It turned out that many nurses have agencies that they have formed and registered and have been operating for a while and or are struggling to get clients and seeing little or no success at all.
Today, Launch Your Agency In A Weekend is for the nurse who is starting his/her agency and the nurse who has already started but is not getting the clients nor making the money he/she wants to make or the nurse who wants to add a private pay division to his/her business.

HERE IS WHAT TO EXPECT:
In just one weekend, you will go from the idea of your agency, to naming your agency, getting it registered for a tax ID number, getting it registered at the state level (so that your state recognizes you as a legitimate business) to being ready for your very first client on the Monday after the weekend that you launch, all the way to taking your already operating agency to the next level for those who have agencies already operating.
Launch Your Agency In A Weekend is a 2 day intensive (experienced virtually or live in-person) packed full of hands-on classes on how to set up your agency, all the forms you need to operate, policies, procedures, how to set up your operating systems, how to hire, how to fire, how to get clients and how to get staff members plus the basics of how to grow your business and move from stress, under earning and under appreciation to a simple to operate business that brings you good income, enjoyment, fullfillment and endless opportunities to make life better for you, your clients, your employees and the communities your serve.
There is a payment plan available.
Launch Your Agency In A Weekend Event is available in 3 forms;
#1. ON DEMAND (you can begin right now) any time, any where on your schedule.
#2. VIRTUALLY, on the first or second weekend of every month. The virtual events are held on a video platform such as zoom. The virtual events are usaually scheduled from 10am to 6pm EST with several break in between
#3. LIVE IN-PERSON 3-4 times a year. The live in-person sessions are held in different cities around the USA. For the schedule of upcoming events, please visit www.LaunchYourAgencyWithStella.com.be
I look forward to working with you in launching your business and or taking your already operating business to the next level.

In Service & In Care,
Stella Nsong.
The Elder Care Cliff Expert. www.LaunchYourAgencyWithStella.com
Your Instructor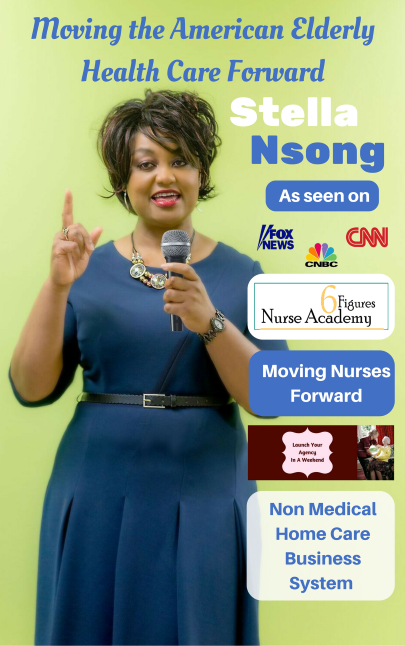 Stella Nsong is an elder care influencer and she is popularly known as the ELDER CARE CLIFF EXPERT.
Her mission is to help every nurse to succeed in entrepreneurship.
Her vision is to build the bridge that will help America transform the elder care cliff through successful home and community-based caregiving, elder care work place programs and long term care policy development.
She became a nurse at the age of nineteen. With three decades of experience, she is a bestselling author, mentor in entrepreneurship, elder care columnist and a hands-on nurse entrepreneur of her own elder care enterprises.
She has been featured in the US News and World report for her contribution to the enhancement of the lives of older adults.
Stella Nsong is the facilitator and chief mentor of the Launch Your Agency In A weekend & the 100 Nurse Millionaires Challenge.
In 1990, she won the Gold Medal for practical nursing in Georgia.
In 2011, she was nominated as the Business Woman of the Year in Chesterland Ohio. In 2012, she was nominated for the Platinum Award in Care Management as well as the Professional of Note in Geriatric Medicine.
In 2013, she became a syndicated columnist with her famous elder care advice column called the Elder Care Cliff Report: What baby boomers need to know about caring for their aging parents.
In 2015, she was a recipient of the Woman of Achievement Award. That momentous occasion recognized Stella Nsong for her endeavors in and to the business and health care community.
Through her mentorship, writing, and workshops, she helps nurses discover hidden opportunities, uncover their strengths, monetize their passion and design businesses they love so that the nurses can reclaim their lives, learn to love their careers again, help America make caregiving a gratifying experience, get paid for what they are worth and support the greatest art of love the she calls CAREGIVING.
Course Curriculum
Announcements, Face Book Connection & Event Planning Details.
Available in days
days after you enroll
COLORADO LICENSE: Required documents, short cuts 2 your license & tips for making money NOW
Available in days
days after you enroll
Frequently Asked Questions
How long do I have access to the course?
How does until triple the income that you are making at the time that you sign up for the course sound? After enrolling you will have unlimited access to this course for at least two years as frequently as you like - across any and all devices you own.
What if I am unhappy with the course?
Stella would not want you to be unhappy with the course and if you are unhappy, you might be the first because over one hundred nurses have taken this course an no one has been unhappy. If you are unsatisfied with your purchase, contact Stella in the first 30 days and she will resolve your dissatisfaction and issue a refund if appilcable.
When does the course start and finish?
Launch Your Agency In A Weekend is offered 4-6 times a year at different locations around the country. After registration, all the details will be made available to you through email and through the secret face book group for Launch Your Agency In A Weekend. For general information about the dates and locations of the upcoming event, visit www.LaunchYourAgencyWithStella.com
I have questions and unique situations, how do i know if this program is right for me?
This is a popular question and a very good one. To get a free consultation with Stella, visit www.LaunchYourAgencyWithStella.com and look for the consutation button and then click and you can schedule a free 30 mins consultation with Stella.
I already have a home care business but i am not getting clients. Will this program work for me?
Yes, this program is designed for both the nurse who is starting out and the nurse who has an exiting business and wants to add a private pay division. Nurses who already have a business get the best results from this program.